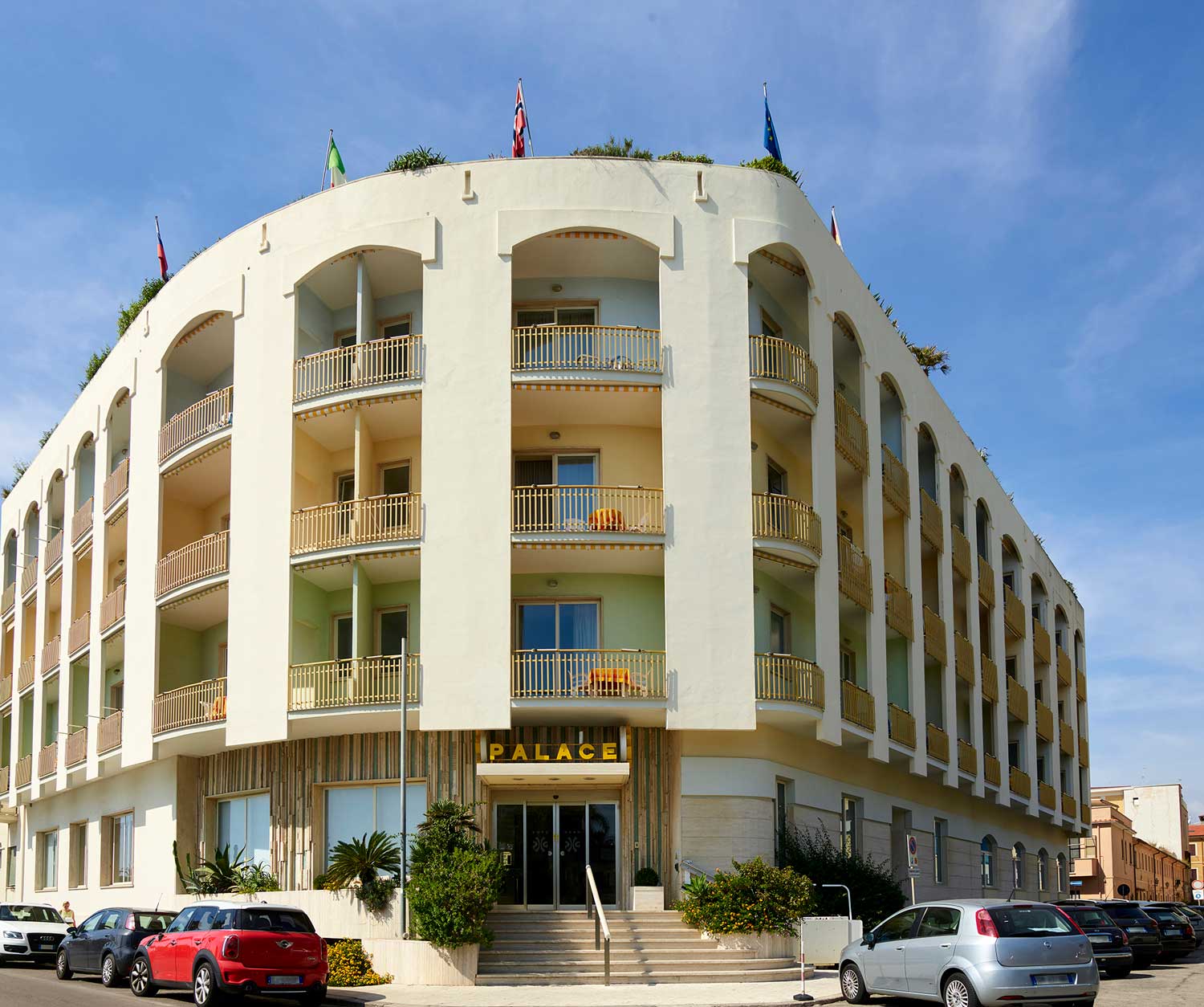 The Grand Hotel Palace
The Grand Hotel Palace is the historic hotel of the city, whose first building dates back to the year 1952 in which at the time it was called Tunisia Palace.

The structure was enlarged in 1968 and changed in 1970 with the transformation of the elevations. Pains were added connected by lowered arches to evoke the arches of the opposite base of the temple of Jupiter Anxur. The building underwent a substantial renovation in the early nineties that bears the signature of the architect Giuliano Angelucci.

Even today, the interiors, the facades and furnishings are the subject of continuous maintenance and renovations to maintain a pleasant appearance of the space dedicated to customers and improve comfort, our services and the impact of our activity on the environment.
Surroundings
The central position of our hotel, in which to share with our guests what we like, from art to architecture, design and poetry, allows you to appreciate the natural and archaeological beauties in the heart of Terracina and around cities also up to Rome and Naples and their islands.
The Position
The Grand Hotel Palace faces east towards Monte S. Angelo known as Monte Giove for the remains of the ancient temple built there in Roman times, the Pisco Montano, Sperlonga, Gaeta and Naples, the islands of Procida, Capri, Ischia, Santo Stefano and Ventotene, clearly visible on a daily basis from its loggias balconies and from the roof garden, as is often the Vesuvius skyline.
Nearby
Immediately around the hotel you can visit the Porta del Sole known as the Neapolitan, a stretch of the Via Appia through a picturesque oval of the Villa Salvini, the enchanted rock with the natural source of the Magnese water and the Cappello del Prete, the historical neoclassical center in addition to the remains of the ancient Porto Traianeo of Roman times. Also reachable on foot are the old town center with the Duomo, the Capitolium and the archaeological area of the Tempio di Giove Anxur.
A trip out of town
While by car, you can reach Fondi ancient Roman castrum, Sperlonga with the national archaeological museum and the Cave of Tiberius, Gaeta, Formia, Pompeii and Naples. Proceeding towards Rome, however, you can not go to visit places like the Oasis of Ninfa, Sermoneta, Fossanova, the fascist cities of Sabaudia and Latina, the Circeo National Park. There are easy connections with the Pontine islands, where boarding is a short distance from the hotel, as well as reaching the Monte San Biagio - Terracina Mare train station by bus, one of which stops just a few meters from the hotel.